The Project
KSB AG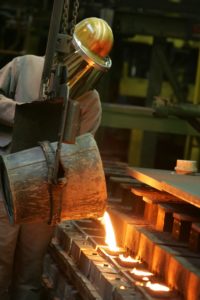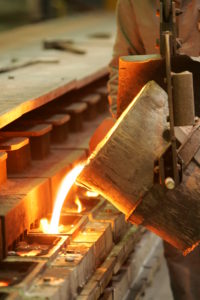 In the middle of 2006, KSB started this project to replace their old PPS software by introducing an integrated, foundry-specific sector solution. The new PPS software needed to achieve the following:
To reduce breakdowns and operational risksas well as to ensure the stability of system operations
To solve the current interface problems between SAP and the existing PPS solution
To provide future-proof standard software which is continuously enhanced and can therefore be tailored to the needs of each foundry
As the software is also to be introduced in the KSB foundry sites around the world in the USA, India, Shanghai etc. it also has to feature multilanguage capabilities and it must be possible to adapt it quickly and simply to the requirements of each location. It was also necessary to create a KSB template.
Before "All for Foundry" was introduced, there had already been a PPS solution in KSB's Pegnitz foundry. Around the world 25 locations and 13 production units belonging to the group had also been using an ER P system from SAP. KSB focussed on sales, finance and accounting, intensive data cleansing, setting up e-commerce, production, engineering, variant and product data management, 3D-CAD and HR management.
It was necessary to change the PPS solution in the Pegnitz foundry due to the high operating costs and out of date functions in the old software and because of the high risks involved in having an outdated database as well as problems on the interface side. There was no possibility to continuously improve the organisation and processes either. In May 2007 a contract was signed between KSB, RGU and All for One Midmarket AG. All for One is responsible on the SAP side for implementing the interface and the direct interaction between SAP and RGU. They introduced the
"All for Foundry" sector solution together with RGU. In comparison to other cross-functional standard software, the "All for Foundry" sector solution can not only be used for the commercia functions in a company, but is also tailored to the special market segment of the foundry industry. After introducing "All for Foundry", the new system provides globally standardized processes for the foundries. Standardized key data ensures that comparisons can be made within the group. The transparency of the software means there is more knowledge transfer and e.g. shorter familiarization phases when personnel are exchanged. The foundry component which is integrated in SAP can be viewed from a commercial as well as a software standpoint and thus stops isolated solutions being created.
This makes it possible to achieve unlimited consolidation throughout the group leading to high cost and time savings. Its ability to implement individual needs and to solve specific requirements flexibly has a significant impact. Cross-segment tasks such as castings and patterns which have to be allocated precisely to a series or batch because of high demands for traceability, or the steps in a production plan which, in addition their own production, also have to take third party processing into account, can all be completely mapped and displayed by "All for Foundry".
"We would like to achieve this transparency in the USA and China too", Volker Kirschke, Head of IT Applications Logistics Quality & Service at KSB, emphasized after "All for Foundry" went live in November 2009.
About KSB AG
The KSB-group, with an annual turnover of almost 2,000 million Euros, is one of the leading producers of pumps, valves and related systems. More than 14,000 staff around the world work in the fields of building services, industry and water utilities, the energy sector and mining. KSB produces pumps and valves according to global quality standards at more than 30 production locations in 19 countries. Their products range from domestic rainwater utilization systems to process pumps and boiler feed units for large power stations. They provide valves in different designs, sizes and materials to cover a broad spectrum of applications. Their products undergo and comply with stringent quality tests, particularly in the energy sector. The KSB group also includes foundries such as the Pegnitz Foundry.