– the special solution for any melt shop looking at reducing your "$$$-bill" !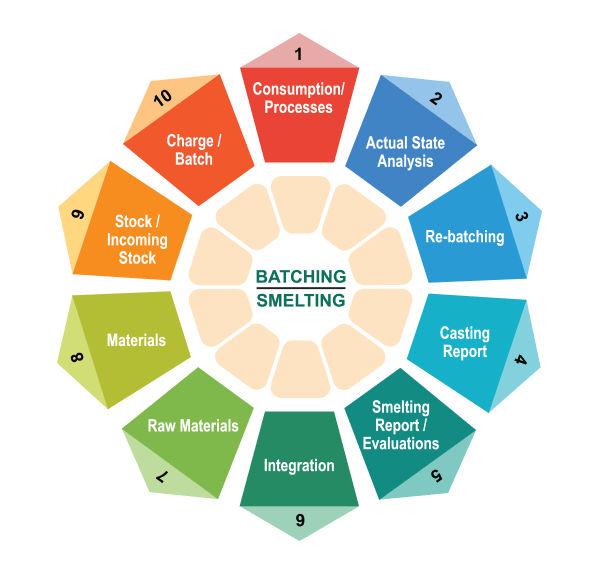 In meltshops a lot of money goes up in smoke every day. Literally. Optimum melt-runs combined with cost-effective material consumption, reduced re-alloying quantities and steps as well as shorter melt times determine just how economical a meltshop is. Having efficient support for the melt process combined with well-functioning materials management and successful energy management are becoming more and more important as factors of success.
Modern melt-shop operations are nowadays digitally enhanced with advanced software systems and other solutions in order to create heightened efficiency and cost savings wherever possible. The melt-shop has – among others – the highest digitalisation potential in any metal casting operations and FRP®.melt is THE solution to start out with.
We deliver a strong solution which asserts itself in several different disciplines:
Comprehensive planning of the melt process covering all melt and treatment steps – right through to when the charge or ladle is ready for pouring

Precise pre-calculations with material requirements calculations considering scrap, alloy components and metals

Optimization of material quantities for precise charges and re-charges (batching and rebatching)

Shortened melt-times and increased melt capacity by means of an integrated foundry information system displaying process instructions, furnace parameters, energy requirements, analyses etc. directly at the furnace

Reduces energy requirements per ton and thus reduces costs by supporting energy management at the point of highest consumption

Delivers traceability and process security by recording and archiving all process steps, analyses and consumptions within the melt report (audit-trail)

Comprehensive evaluations possible in the form of web-based forms and reports

Links to analysis devices and furnace controls for improved process integration

Integration of third party systems via standardised interfaces to maintain continuous mass and materials flow
FRP®.melt is available within the FRP® – system standard either as an add-on module or as a stand-alone solution with or without interfaces to third party systems. It is a detailed planning tool focusing on the melt-shop and the furnace operators. In addition FRP®.melt is accordingly implemented as either a standalone software solution or part of the integrated FRP®-platform. If standalone the solution has a special starting level and it is desired to learn and upgrade over a period of time.
FRP®.melt is categorized into 3 different levels namely level M1 / level M2 and level M3
FRP®.melt (level M1) is the starting level solution designed for creating a database and providing the ability for charge calculations.
It is the aim in this M1 – level to securely keep your know-how in form of a database (Step 1).

Furthermore to reduce cost where possible with every batch via creating "what if" - calculations, e.g. Use FeNi instead of pure Ni briquettes when alloying. (Step 2).

Last but not least to calculate the cost of your standard batch (without actual prices from purchase) and to calculate the cost for actual batch (without materials management and without Purchase items, Step 3)
FRP®.melt – level M2 is comprising of an advanced level of melt shop management in comparison to level M1. To implement FRP®.melt - level M2, we need to complete level M1 first as otherwise all the foundation items are missing
Key add-on elements of FRP®.melt – level M2 are as follows:
Melting facilities - melting furnaces record, capacity

Post charge calculation – re-alloying of melt, melt chemical actual analysis

Melting report – charge calculation on basis of physically used / available material, different process status / levels, melt treatment

Working staff details on the furnace

Energy (KwH) consumption record per heat

Selection of pouring ladles after tapping

Standard print out of the FRP® - melting report

Furnace lining heat count record

Online info of the melt – charge calculations, melting reports
FRP®.melt – level M3 as described hereafter is for a professional melt-shop management level implementation.
To implement FRP®.melt - level M3, all activities as defined under level M1 and level M2 must be completed.
Key add-on elements of FRP®.melt – level M3 in addition to level M1 and level M2 are as follows:
With material managment program - price sheets, purchase order, stock entry of purchase material (incoming goods), inventory card, stock dispatch, balance, inventory record keeping per stock entry with every new incoming material analysis
Digital integration of spectrometer with system – retrieve analysis directly from spectrometer to melting report, actual analysis of raw material, actual analysis of melt, post charge calculation.
Optionally DASHBOARD implementation (information available upon request) 
Function List Overview FRP®.melt – level M1 to level M3

Function List

M1

M2

M3

Master Data
Charge Calculation
Melting Facilities
Post Charge Calculation
Melting Report
Material Management
Spectrometer integration
Online Info
Melt Dashboard
Sign up for our Mailing List
Receive the latest news and useful tips