VIRTUAL FOUNDRY CONCLAVE AT COIMBATORETAKEAWAYS PART 1
The traditional Foundry Conclave @ Coimbatore, jointly organised by IIF (Indian Institute of Foundrymen) and CII (Confederation of Indian Industries) as well as FDF (Foundries Development Foundation) was held over 6 days (20th – 22nd January 2021 and 27th – 29th January 2021) as a VIRTUAL EVENT for the first time. Never mind the non-physical presence of delegates as more than 500 registered online participants joined the forum.
Here is PART 1 of the TAKEAWAYS from the first 3 days of participation: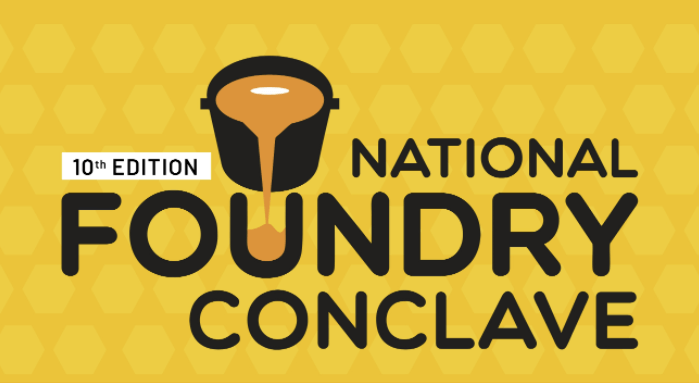 It's all about data and using ideally a "digital twin" to improve
Only 10% of Indian foundries invest into technology
In a step one what foundries need is a MES system to be able to be transparent and not merely ERP. Ideally the MES has "digital twin" capabilities for direct data collection from shop-floor.
Every foundry should thing of a digital strategy as a must and do requirement
Better planning means strong focus on PPC, tracing / tracking, transparency
Ideally a digital production system covering all areas in foundry including from mould to finish part is available, step by step this can be established.
IT is paramount to monitor "in process inventory"
Part of the Job falls on "predictive maintenance"
Every foundry needs to aim big for digital transformation by starting small and growing this activity
Very important is people competencies & skill development
Ultimately to find the partner to understand foundry and understand the goals and has the foundry manufacturing language is also important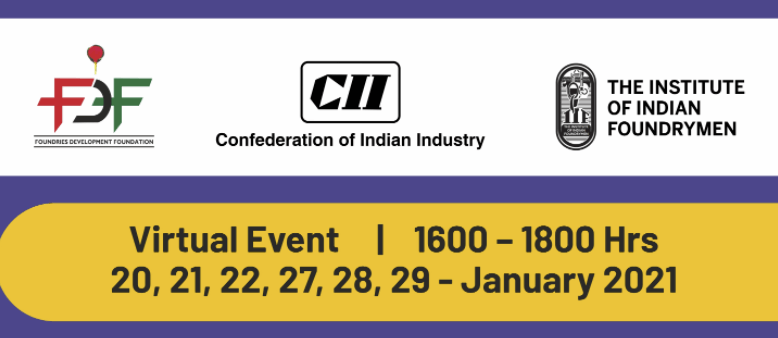 speed – flexibility – quality – efficiency are 4 major items / requirement in casting manufacturing, but they can be contradictory to each other and via digitalisation you can integrate them
Digitalisation is not a leading tech but cutting tech, meaning without it you will not succeed in future
It's not for elite classes but for all common
And be patient as digitalisation is a journey ,it takes time
So why do need system? You need system to tell what is ACTUALLY happening and not what you THINK is happening
Last but not least your digital mindset is most important
DAY 2
INDIAN FOUNDRY INDUSTRY IS AMONG THE TOP 5 EXPORTERS GLOBALLY
Challenges of INDIAN Foundries:
Globalisation
Technological changes and foundry unable to adopt the same due to various factors.
Unable to retain skilled people
Investment issues and mindsets.
What OEMs expect from INDIAN foundries:
Quality: defect free castings, fully finished components from one source, International benchmarking applies
Cost: Price optimisation through operational excellence, productivity in many Indian foundries remains low due to various factors. (Remark: Digitalisation and automation supports productivity enhancements in case that even when the price of electricity and raw material is going up, the price of produced finished goods is going down and all thanks to the digital / technical transformation)
Reduction of logistics expense, Reduction of the unused / undetected inventory lying on shop floor, reduction / elimination of rejection of any kind
Green Foundry: Most foundry needs this to make a cleaner and greener environment, use of solar and wind energy wherever possible, reducing carbon footprint is mandatory.
Coming Together is Beginning,
Keeping together is Progress,
Working together is Success.
DAY 3
The foundry market size in India has a potential growth of 13.08 Billion USD in 2021-2025 period understanding that certain pre-conditions must be met.
Agriculture and tractor market providing demands for foundry parts and need 4-D applications focusing for an automated and as much as possible digitalised foundry.
The automation (robot) deployment in India stands currently at 4 units / 10k employee overall for foundry, world standard median is 143 units robot / 10k employee.
COVID-19 is / will be a booster for digitalization and automation (robot deployment).
IT is important to note that any automation cannot do magic unless there is a discipline in organisation.
Long term commitment is a must for automation and transformation to new (digital) technologies.
Low-cost sourcing-based approach cannot be sustained unless productivity improves
Low technology adoption by foundry has to be replaced with continued investment into medium- or high-tech
Inconsistent delivery schedules have to improve for better delivery reliability
Overall machining capability is too little, and there should be precision machining capabilities.
Consistency is what OEM's look for from foundries.
"You should not be satisfied with Quality,
there should always be a hunger to become world class"
Please join Foundry Conclave Part 2 from 27th – 29th January 2021
Register and Join
Disclaimer:
The editor of this "takeaways – part 1" does not guarantee completeness of the above statements made by the presenters and panelists as all notes were made in good faith and understanding. In any case of mismatch, the original statement by the presenter / panellist counts!