Using a "Digital Twin" explained!
Understanding Foundry Resource Planning (FRP®) in
metal casting operations!
Covid-19 pandemic is THE major disruption since WW2, let's face it!!
Physical lockdowns are causing the loss of visibility to the entire supply chain. In many cases the raw material situation is going "north" and prices are skyrocketing.
You simply are unable to track data due to unavailability of functional integrated digital platforms and to know at the same time what is where and why.
The NEW NORMAL IS A METAL CASTING BUSINESS
that is designed with digitalization in mind right from start
Especially in 3D (dirty – dangerous – difficult) environments
HAVE TO
become D3 (digital – dynamic – different).
One quintessential step is:
Have a digital strategy and use the tools available!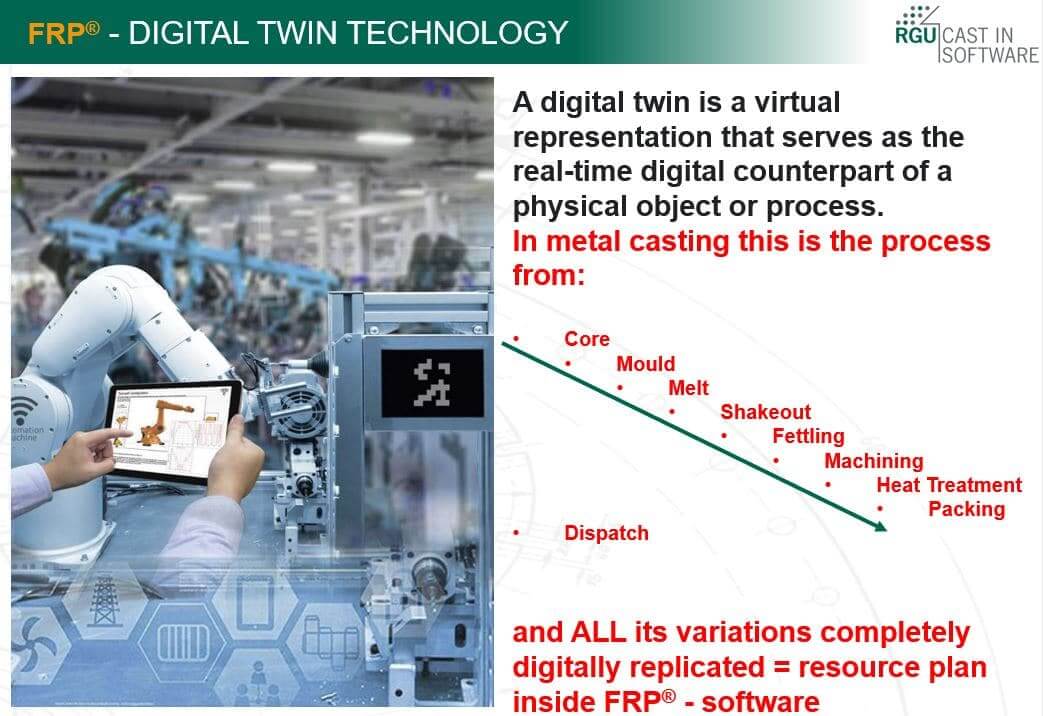 FRP® – Foundry Resource Planning solutions has at its core a "DIGITAL TWIN" approach by creating a digital replication of the casting manufacturing process via a "RESOURCE PLAN" (= RP) which is made of all prevailing man-machine-material requirements:
The RP is simplified expressed in a "digital twin" of the manufacturing process of how to make a casting from scratch and considering all process steps until dispatch.
The RP goes WAY beyond BOM and integrates Material – Machine – Cycle time (Man Power) – Formula of items – Costing – Setting time – etc. for all the stages of the foundry from melt to finished part.
The RP is the "Backbone" of the FRP® software and is used for ALL activities in PPC and ALL queries in regards to delivery reliability / purchase / quality / etc. will fall back on it. In addition the digital twin approach is the future of all manufacturing industries but very much the metal casting.
The RP has further functions in predictive maintenance and data analytics and allows to digitally compare PLAN with ACTUAL in REAL TIME
The RP technology has even to a certain extend AI (artificial intelligence) incorporated since it allows to support future activities to forecast based on present data.
You want to understand more what a digital twin is all about, check out this video
Please visit our website for further details and check this out at your convenience : https://www.rgu-asia.com/the-frp-product-planning-system/