The FRP® – PPC System is the tool you need for the operative and strategic planning of your production. With the FRP® – PPC System both long and short term scheduling and capacity situations can be controlled and monitored around the clock.
The FRP® – PPC System is particularly suited for planning and synchronizing moulding, melting and casting processes. Tooling / Pattern availability combined with all resources in any type of metal casting environment allows for the synchronization of continuous and discontinuous processes and the availability of capacities.
Tool availability, preparation and provisioning, moulding availability for single piece or mass produced castings
Coordination moulding shop and core production with account taking of pattern plates and core box combinations and allocations
Provision of liquid melt to several moulding shop areas in different material qualities and ability to form pouring batches
Cooling time considerations
Continuity and capacity if cast finishing treatment incl. ESP's (external service providers)
Forming of heat treatment batches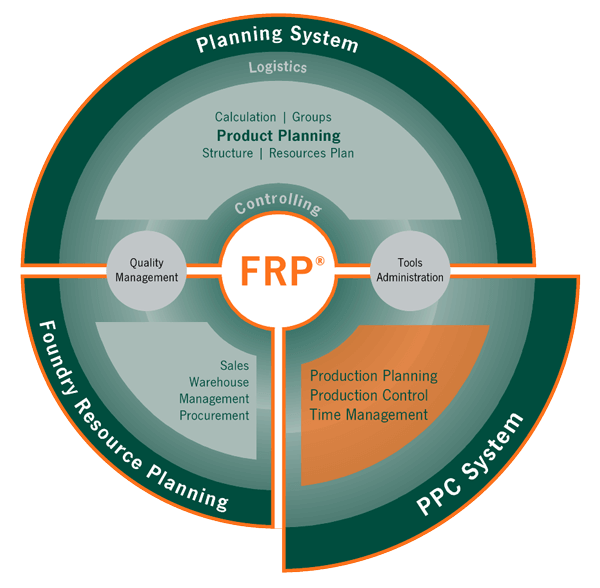 The FRP® – PPC System key features:
Flexible and configurable planning levels with any type of scheduling solutions.
Forming of production lots at scheduling level and planning according to defined capacities and availabilities
Confirmation of delivery dates based on capacity plan
Individual plan for each production level (foundry stage) according to current demand or plan of production lots for all different production steps
Detailed planning of each production step with machine assignments in order to control the production in the subsequent time-period.
Selection of most suitable / optimal sequence under consideration of any target criteria or restriction.
Jobbing order production will cover weekly schedules usually created for the moulding shop whereby each production area can decide on their own sequence and man-power utilization
Bottleneck visualization via foundry information system for e.g. pits, special boxes, special alloys, others
Serial order production the previous plan is constantly updated with the new incoming orders forming a new production plan on shift / day / week / month / quarterly basis
Synchronization of mould, melt and casting process and alignment with upstream (core making) and downstream (e.g. machining) processes.
Production plans are accessible online
The FRP® – PPC System scope of functions
Order management with different order types including test and reservation orders
Capacity planning according to operational areas, machines and individual process steps
Production variants can be combined as desired
Online information system for all foundry data
Extensive configuration possibilities for entering confirmations from production online with actual times, outage and overhead cost times – mobile data entry possibility
Comprehensive analysis and evaluation possibilities, calculation of KPI including final costing and performance efficiency evaluations
Integrated tracing of batch / test and cast number (casting markings) across all foundry stages for the final product
Variety of processing options for ESP's
Processing of all booking data for comprehensive product cost accounting
Sophisticated block and release concept for planning and confirmations
Extension options for special processes like centrifugal / continuous / investment / pressure die casting considering los or permanet moulds and models
GANTT diagrams in form and layout.
Sign up for our Mailing List
Receive the latest news and useful tips